/

Actions for the benefit of the association!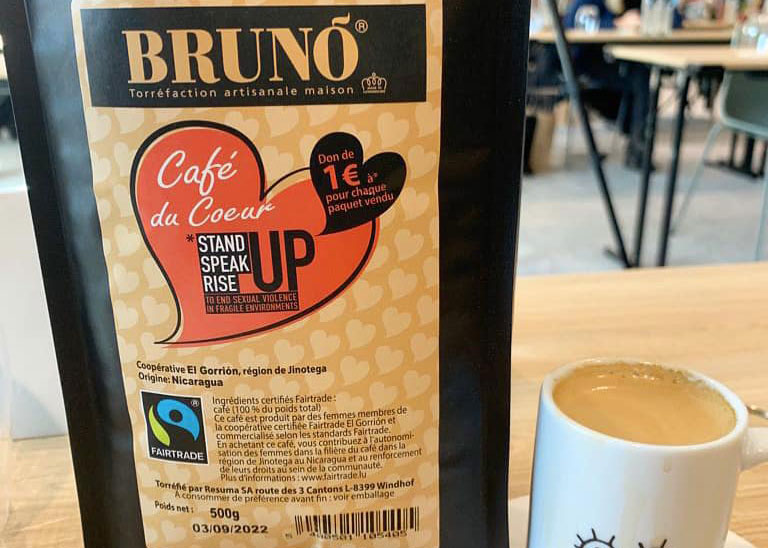 Un Amour Souverain
Our President and Founder HRH the Grand Duchess Maria Teresa of Luxembourg and our Secretary-General, journalist Stéphane Bern, unveiled in November 2021 the cover of a joint project, the result of a long work of research and exchanges: "Un Amour Souverain", a book published by Éditions Albin Michel.
For the first time, on the occasion of their emerald wedding, the Grand Duke and Grand Duchess agreed to confide in Stéphane Bern in complete privacy, to tell their love story and to unveil their personal album with unpublished photographs. Pages retracing the history of a monarchical institution that has waged, since the beginning, its humanitarian and charitable battles recognized by all.
A book of confidences, memories, and history, of which 100% of the royalties are donated to Stand Speak Rise Up!
"Coffee from the Heart" SSRU – Fairtrade
In October 2021, on the occasion of International Coffee Day, Stand Speak Rise Up! supports Fairtrade Lëtzebuerg asbl and its innovative coffee projects.
Projects that are directly in line with the projects built by Stand Speak Rise Up! since they aim to support women farmers in Nicaragua in the production of Fairtrade coffee. The sale of this coffee helps bring stability to their community through the construction of a maternity center, a neighborhood store that allows members to buy food on credit for coffee, the construction of a school, and finally the organization of specific courses for women to contribute to their empowerment.
By purchasing the "Café du Coeur" SSRU-Fairtrade, you are directly participating in empowering women survivors of sexual violence and keeping their working conditions safe and free from abuse. This coffee is on sale in all Cactus supermarkets in Luxembourg.
"Les chouchous du cœur"
Since March 2020, the chocolates "Les chouchous du cœur", made by the Atelier Tricentenaire, have been sold in all Cactus stores in Luxembourg, for the benefit of Stand Speak Rise Up!